Easily clean tough dirt buildup on mesh windows!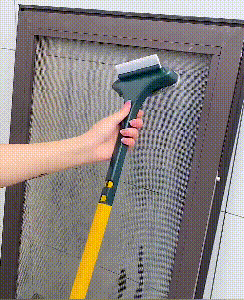 2 in 1 Mesh Cleaner Brush can also serve as a window scraper.Make cleaning  window easy and fast.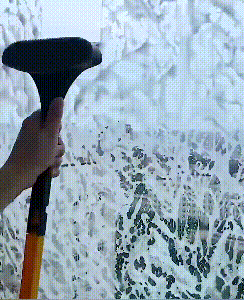 Features:
✨ Ideal for Cleaning Windows
Clean screens without taking them out of the frame! 2 in 1 Mesh Cleaner Brush is designed for the task, it eliminates the possibility of damaging the window and speeds up the scrubbing process! Cleaning will be faster, easier, and safer!


✨ Wet and Dry Dual-Use 
It can be used dry for light dusting and maintenance cleaning, or you can get it wet to remove dirt and grime that is a little more stuck. For removing pollen, cottonwood fuzz, and other dusty debris, you can use the 2 in 1 Mesh Cleaner Brush to quickly swipe it up. 


✨ Detachable Long-Reach Handle
This set is detachable! You could either use the shorter brush or attach the brush along with the additional handle as a set. Reach higher places effortlessly!  

✨ Versatile 
Quickly dust surfaces on sofa, carpet, sheet, clothes, or thoroughly scrub. The material is totally reusable, so rinse clean and hang to dry when you finish!

PRODUCT SPECIFICATION
Material/s: Polypropylene & Flannel 
Weight: 100g
Size: 46*16*5.6cm
Colors Available: white-black,yellow-black
Package Inclusion/s: 1 pc. 2 in 1 Mesh Cleaner Brush
❤️Thank you very much for visiting our store.❤️
❤️Have a nice shopping day❤️




✈ Worldwide Shipping ✈  
We would greatly appreciate your patience and understanding as we work to meet demand while ensuring that every piece meets our high-quality standards.