Engaging Sensory Toy for Your Kid
Fast Push Puzzle Game Console provides a stimulating and engaging experience, promoting sensory exploration and fine motor skills development.
Its playful design and engaging features make it an ideal choice for kids (or adults) looking for a sensory toy to keep them entertained and engaged.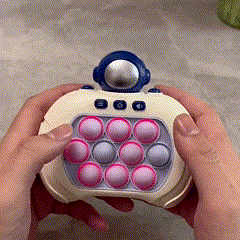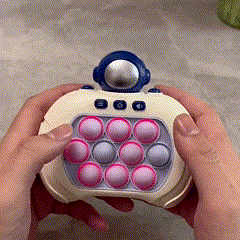 Is it difficult to take the smartphone away from your kid?
Fast Push Puzzle Game Console is the ideal smartphone alternative toy for kids with its exquisite, adorable design, and innovative, entertaining gameplay.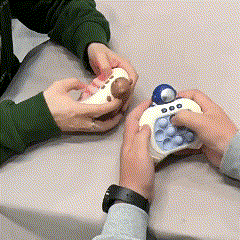 Multiplayer Fun for Kids and Parents!
Fast Push Puzzle Game Console can be played not only as a single-player game but also allows for simultaneous gameplay by two players, creating a new bonding time for children and parents.
It's safe for your kid and durable
Fast Push Puzzle Game Console is made of silicone and ABS, ensuring its durability and sturdiness. It is a toy that parents can trust for its safety and reliability.
4 Game Modes
Stage Mode
As the stages increase, the number of lights will increase, or the time limit for each stage will shorten. If the lights are not turned off, and the button behind is not pressed within the time limit, the game will fail and return to the initial state.
Memory Mode
The game begins by waiting for the lights to illuminate after the end of the prompt sound, and then the buttons are pressed in the order of the lit lights. The level can be selected outside the game mode by pressing the second light button.
Scoring Mode
The more lights you turn off within a 1-minute timer, the higher your score (up to a maximum of 100 points). As mistakes result in game failure and no score. The highest score can be checked outside of the game mode by pressing the third light button.
Multiplayer Mode
Two players take turns completing levels alternately. If one of the players fails to turn off the lights and press the button behind within the time limit, the game will fail, and that player will need to return to the initial state and restart the game.
Benefits of Fast Push Puzzle Game Console
Rashmi Jain, M.D., Concierge Pediatrician, And Founder Of BabiesMD
"Benefits of toys like Push Puzzle Game Console include sensory engagement which in turn allows many children to focus better on academic matters or in other areas that require them to concentrate," Dr. Jain explains. "The repetitive motion of pushing the buttons back and forth can keep their hands occupied and brains focused."
These toys may also prevent kids from "sucking their fingers, biting their nails, twirling their hair, picking at their skin, or performing other self-injurious/stereotypic actions that are often soothing but can also be distracting for these children," adds Dr. Jain.